Apple Island Tours have been postponed!

2023 Apple Island Tours are postponed due to logistical issues! Stay tuned for updates.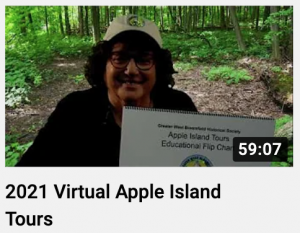 View the 2021 Virtual Apple Island tour here.
About Apple Island Tours
Apple Island Tours is an annual event during the second weekend in June by Greater West Bloomfield Historical Society, in partnership with West Bloomfield School District, City of Orchard Lake Village, and West Bloomfield Parks. Tours begin at Orchard Lake Museum and include outdoor exhibits, volunteer island docents, presenters Genot (Winter Elk) Picor and Mi-kwan-dahn (Mike) Jewell, bus and boat transportation, and a self-guided island tour. Tickets are first come, first served each day of the tours.
Apple Island, officially known as Marjorie Ward Strong Woodland Sanctuary, is a 37-acre island in the center of Orchard Lake. It is currently uninhabited by people and is kept as a nature preserve with several archaeological sites by West Bloomfield School District. The public can visit the island during the annual Apple Island Tours.
Community Partners
Past Events
2019 Apple Island Tours poster
The Michigan Society of Professional Surveyors explained the history of surveying during the 2017 Apple Island Tours on Civic Center TV.
2015 Apple Island Tours presenters
2014 Civic Center TV coverage of Apple Island Tours
2012 Apple Island Tours event images