Virtual Apple Island Tours for 2021
Saturday, June 12 & Sunday, June 13, 2021, 10am & 1pm

Saturday – 10am
Zoom Meeting: https://us02web.zoom.us/j/81936987247
Meeting ID: 819 3698 7247
Saturday – 1pm
Zoom Meeting: https://us02web.zoom.us/j/86283091827
Meeting ID: 862 8309 1827
Sunday – 10am
Zoom Meeting: https://us02web.zoom.us/j/81472833238
Meeting ID: 814 7283 3238
Sunday – 1pm
Zoom Meeting: https://us02web.zoom.us/j/82026832106
Meeting ID: 820 2683 2106
A free virtual presentation featuring a tour of Orchard Lake Museum outdoor exhibits, volunteer island docents, presenters Genot (Winter Elk) Picor and Mikwhandan (Mike) Jewell, and a virtual island tour. Sponsored with West Bloomfield Parks and West Bloomfield Schools. Apple Island informational panels will be outdoors at the Museum depending on the weather and COVID-19 restrictions.
Apple Island, officially known as Marjorie Ward Strong Woodland Sanctuary, is a 37-acre island in the center of Orchard Lake. It is currently uninhabited by people and is kept as a nature preserve with several archaeological sites by West Bloomfield School District. The public can visit the island during the annual Apple Island Tours.
2019 Apple Island Tours poster
No reservations. 3:30 p.m. is last departure. $20 adult ticket, $10 child 5-12 years ticket (no kids under 5). $5 GWBHS and Time Travelers member ticket. Sponsored with West Bloomfield School District, City of Orchard Lake and Orchard Lake Schools.
Sign up at the museum and take a pontoon boat ride across Orchard Lake to Apple Island for a self-paced tour.  Volunteer docents and presenters provide commentary at select island locations
Last tour group begins at 3:30 p.m. Allow 2.5-3 hours round trip. There are 15 steps to climb to access the island. Wear walking shoes and dress appropriately for cooler lake temperatures. First come, first served.
Presentations include current Apple Island archaeology; early French influences in songs, stories & practices; Native American traditional life, and more.
Free hands on activities at the Museum (historical costume photo op, archaeology activity box, old fashioned games). Refreshments available by cash or credit.
Bus transportation provided by West Bloomfield Parks.

2019 Sponsors
Gold Sponsor – Provision Living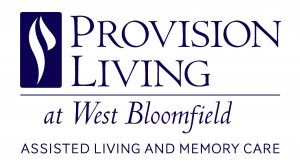 Silver Sponsors – bugs Beddow    Magnolia by the Lakes   Michigan Chiropractic Specialists   Townehall Place
Other Apple Island Tours Sponsorships are available.
Community Partners
Presenters & Exhibits
Presentations include Apple Island archaeology updates; traditional Native American/French songs & stories, 1700s explorer life, and more.
Genot "Winter Elk" Picor
Jeff Vallender
Past Events
The Michigan Society of Professional Surveyors explained the history of surveying during the 2017 Apple Island Tours on Civic Center TV.
2015 Apple Island Tours presenters
2014 Civic Center TV coverage of Apple Island Tours
2012 Apple Island Tours event images