Experience your hometown's history
Are you interested in learning about the rich history of your hometown?
The historical society is offering private tours in which you select not only the historical landmark but also the day and time – and pace – for your group to explore Keego Harbor, Orchard Lake, Sylvan Lake and West Bloomfield, all led by trained docents.
Available to organizations, families and schools
Tours can be combined to meet your needs
Reservation required three weeks in advance
A 50% non-refundable deposit is required with Apple Island Tours and luncheon Reservations
Checks payable to GWBHS
Mail to: GWBHS, 3951 Orchard Lake Road
Orchard Lake, MI 48323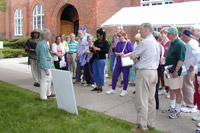 Group Tours are available for organizations, schools, families, and friends at the Orchard Lake Museum and Apple Island, along with guided walks on the grounds of the Michigan Military Academy or the Detroit Interurban Railroad line on the West Bloomfield Nature Trail. Contact us for more information.
Tours offered by GWBHS
Museum Visit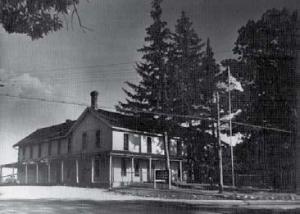 Visit the museum, guided by a docent. Featured items of local interest include Native American implements, Keego Movie Theater relics, farming equipment, early maps, photographs and art work. The museum building is on the site of the Orchard Lake Hotel, opened in l869 and operated as a hotel until 1929 when it was purchased by Orchard Lake Village. The building is made from materials salvaged from the hotel.
Program length: one hour
Available: any day
Group rate: 1-12 people – $75
Michigan Military Academy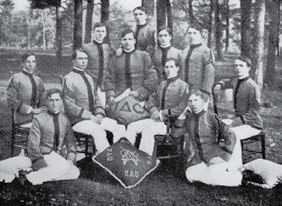 A guide will lead your stroll around the former Michigan Military Academy (1878-1908) on the grounds of Orchard Lake St. Mary's campus. During the brief 30-year life of the school it was deemed the "West Point of the West."
Program length: one hour
Available any day
Group rates: 1-15 people – $75
15-30 people – $125
Railroad Nature Walk
Map: Railroad Bed and West Bloomfield Nature Trail Walk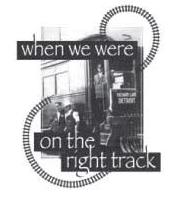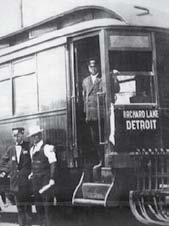 A guide will lead you along the West Bloomfield Nature Trail (from Orchard Lake north to Sylvan Lake, two miles) discussing the nine historical markers highlighting the former Grand Trunk Michigan railroad bed. It was parallel to what was once a light-rail, mass transit system known as the Detroit United Railway's interurban line, or DUR. The Interurban carried passengers and freight throughout southeast Michigan from 1899 to 1929.
Program length: one hour
Available any day
Group: 1-24
Group rate: $60
Apple Island Tour

Take a 20-minute pontoon boat ride on Orchard Lake to Apple Island. Then walk the island with a docent to see such natural features as unusually large hardwood trees and man-made wells, cisterns and foundations from the 1800s and early 1900s.
Program length: approximately two hours
Available: June-September
Museum and Apple Island Student Tour
Description of Tour:
Visit to the Orchard Lake Museum (OLM) with docent – 30 minutes
Educational Focus: Examine, categorize and group artifacts into categories:
Native Americans, Farmers, Vacationers and Suburbanites.
WBSD bus ride to the West Bloomfield Schools dock.
Pontoon boat ride to Apple Island and arrive at a dock on the north shore for a maximum of 15-18 people per boat, depending on their size.
Guided tour of Apple Island –One hour island tour
Educational Focus: Observe ruins with interpretation of the four phases of development in mind. Observe and learn about the flora and fauna on the island. Other points of interest are uniquely added by each docent.
Fees:
    WBSD is $5 donation fee per person excluding the leader.  Please submit head count upon arrival at the museum.
    Other group fee is $125 payable to GWBHS. Pontoon boat(s) transportation and perhaps bus ride, are provided by Durham Transportation at an additional fee.
Scheduling the Tour and payments:
    Trip length – 3-3.25 hours for Apple Island and Orchard Lake Museum (OLM) visit. A OLM visit can be 30-60 minutes.
    Call, GWBHS Group Program Coordinator, Don Newman, 248-683.2427, dynamicwest@sbcglobal.net to book tour. One rain date per two days of trips is scheduled.
    Transportation.
o    West Bloomfield teachers set up event transportation with Durham WB Schools Transportation. Other groups have transportation arranged by the Group Tour Coordinator.
o    Durham WBSD Transportation directly bills all Tour Leaders.
Tour Requirements:
 One adult chaperone for every six second-grade students.
 No strollers permitted
 Everyone must wear life vest while on the boats
 No more than 15-18 people per boat
 No drinking water or restrooms are available on the island.
 It is up to 10 degrees cooler on the water and the island.
 The paths are natural. Please dress accordingly.
 As a Nature Sanctuary, all growth is to be left in its natural state on the island.
Safety information:
 Guides have cell phones
 Boats stay at the island
 Everyone has a life vest
 Each island guide carries a simple first aid kit
Emergency Pick Up Points are known by the West Bloomfield School District. People will be evacuated from
1. the dock
2. South Landing, just east of the end of the north/south path (with a metal sign at the shore)
3. Ward's Landing, sw shore (with a metal sign at the shore)
Emergency pick up points are described on line by GPS coordinates on an Apple Island map, with other points of interest, at http://maps.google.com/maps/ms?ie=UTF8&hl=en&vps=1&jsv=284c&oe=UTF8&msa=0&msid=106215829153727831600.00046a05243038441a330
Day of the Event:
Don Newman, GWBHS Group Program Coordinator will be in contact with adult leaders, docents and WBSD transportation to coordinate the feasibility of the trip on the morning of each tour date. Don handles all communication and he must to be notified of any change in plans.
Before Your Visit: Visit our website, www.gwbhs.org, for additional information to use in preparation for your visit.
After Your Visit:
Please visit our web site, www.gwbhs.org, and complete an Island Survey about your experience. Find it by using the search bar in the upper right hand corner. We value your feedback.
Island Survey
Have you taken an Apple Island Tour recently? Please complete this survey.