History of the Museum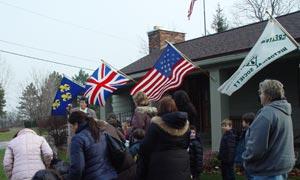 The original structure was built in 1854 as the Orchard Lake House. Later renamed the Orchard Lake Hotel, it was razed in 1938 and replaced with the current structure housing the Orchard Lake City Hall. In 1987, when a new city hall was constructed, the Greater West Bloomfield Historical Society was granted use of the building as a museum.
Exhibits
Search our virtual exhibits containing more than 1,500 photos and scores of documents about:
City of Keego Harbor
City of Orchard Lake Village
City of Sylvan Lake West Bloomfield Township
Apple Island
Hotels, Motels and Inns
Michigan Military Academy
Cass Police and Fire Department
Pine Police and Fire Department
Orchard Police and Fire Department
Sylvan Police and Fire Department
Walled Lake Police and Fire Departments
Restaurants
Sailboats and Iceboats
Video vignettes: www.YouTube.com/gwbhs
Following an extensive renovation in 2006, the Orchard Lake Museum features both temporary and permanent exhibits pertaining to 1,500 years of the greater West Bloomfield area's history. Culled from the Society's rich collections, the Museum showcases objects from the area's recorded human inhabitation: Native Americans and fur traders, pioneer farmers, vacationers and suburbanites.
Items permanently on display include:
17th-century dugout canoe
The Keego Cinema sign, a neon landmark for 60 years